The 7 Best Indoor Putting Mats to Improve Your Golf Game
Are you looking for the best putting mat? You might be hoping to improve your golf game but don't have access to a course year-round. Perhaps you need to hone your putting skills before taking to the green. Or maybe you just can't get enough of your favorite sport and want to be able to golf anywhere, at any time.
Whatever your reasons, investing in an indoor putting mat can vastly improve your golf skills. Using the best putting mat can take you from amateur to near-pro without even leaving your house. It's also a fun way to get your friends and family involved without having to coordinate travel and club memberships.
Professional golfers use indoor putting mats for a reason. They're essential for fine-tuning motor skills and honing your short game. You can learn so much about your golfing style from playing on a smaller scale in a controlled environment.
While buying a putting mat may seem like a simple task, there are numerous factors to consider. Purchasing a cheap mat can lower your game performance by forcing you to rely on bad techniques. To get the most out of your mat, you need to get the best – though not necessarily the most expensive.
In addition to recommending seven of our favorite indoor putting mats, we'll outline the benefits of using an indoor putting mat, important considerations before buying, and answers to some common questions.
Let's get putting!
Top 7 Indoor putting Mats
Although you'll find dozens of indoor putting mats advertised online, the vast majority are cheaply made and don't have much in common with a real putting green. If you want to improve your short game and actually enjoy practicing, you need a mat that offers a smooth, hassle-free experience so that you can focus on your game instead of constantly straightening wrinkles or retrieving runaway balls.
We've identified seven high-quality products that are likely to improve your putting skills, while also providing an enjoyable user experience. Although the PrimePutt mat was our favorite, each of these mats has a lot to offer and will keep on delivering until you can sink the perfect putt.
The PrimePutt Putting Mat is the gold standard of indoor putting greens and boasts all the essentials without any superfluous fluff.
Utilizing top-of-the-line PGA Tour-grade turf, this mat is as close to the genuine experience as you'll ever be able to get indoors. With a pleasingly accurate roll, the premium turf is remarkably similar to real grass and will help improve your putt even when you can't get to the course. The lack of markings makes the experience as close to playing outside as possible. After all, you won't have alignment tools and measuring guides on the green.
Depending on your skill level and practice objectives, you can choose from Original (9-11 stimpmeter rating) or Tour turf (10-12 rating) speeds. The PrimePutt matt is available in a range of sizes to fit any room, from the Compact one-hole design (1.5 ft x 9 ft) to the Standard, XL, and XXL three-hole designs, which are 3 feet in width and range from 9 feet to 15 feet in length. Whichever model you choose, you can be sure that it will be easy to roll up and store. And even better, the mat lays flat every time, so you don't have to worry about annoying creases or wrinkles on the putting surface.
Each hole can hold up to four balls at once, and the Standard, XL, and XXL sets include three cups with optional flag markers. That means you can make twelve uninterrupted shots before you have to retrieve your balls. Another outstanding feature of the cups is that they accurately retain balls that you would make on a real course, while misses bounce out. Putts that you make end up in the back of the cup, leaving the front open for your next putt. The custom-engineered design is perfect for simulating genuine holes without sacrificing its sleek appearance.
The PrimePutt mat also features a no-block backstop that prevents rollbacks. The specially angled wooden block at the end of the mat prevents balls from rolling away, stopping their momentum so they won't roll back onto the putting surface. This means you don't have to worry about previous shots getting in the way of new ones, and you won't have to stop putting to move them.
While this putting mat is on the higher end as far as price is concerned, the premium quality and design are worth it if you are serious about improving your game. Thanks to the lifelike materials and setup, the skills you build on the mat will transfer flawlessly to the green. PrimePutt offers a 100% money-back guarantee if you're not satisfied, so there's no risk if you decide to purchase it.
If you're looking to improve your game using the best of the best, then look no further.
Bottom Line:
The PrimePutt Putting Mat is the best indoor putting mat we have found. It's made with high-quality materials, feels realistic, and uses advanced designs to make each shot smooth and precise.
The Perfect Practice Indoor Golf Putting Mat is a solid choice for anyone looking for a high-quality putting set at a manageable price point. Available in three lengths, this putting mat is all about comfort and utility. The standard mat features two holes: one regulation size and one reduced size. The smaller hole helps you hone your aiming accuracy and fine-tune your control, while the larger one offers the standard experience of a regular course.
The course slopes up, with the holes located at the top of a small hill. This makes you hit the ball harder, simulating the effort you would need for an uphill putt on a real course. The balls travel down the return shoot and are deposited back at your feet for the next round. This gravity-based design is ideal for easy ball retrieval and continuous putting – though it prevents you from practicing putts on a flat surface.
Suitable for both right- and left-handed golfers, the standard mat measures nine and a half feet in length and features guide markings for ball alignment, distance, and tracks. The turf material is smooth-rolling crystal velvet, while the back of the mat has a non-slip coating to keep it in place while you play, though you'll need to place it on a smooth floor.
If you need something smaller for travel, there is also a compact version of the Perfect Practice Putting Mat that measures only eight feet in length and has just one hole. There are also acrylic and barstool versions. On the other hand, if you have plenty of free space, there is a massive 15.5-foot option that allows you to practice significantly longer putts. All of the Perfect Practice mats are designed to roll up so you can travel with them.
Bottom Line: The Perfect Practice Putting Mat is ideal for practicing uphill shots. It's a well-made product with a solid wood base, two holes of different sizes, and a useful automatic ball return.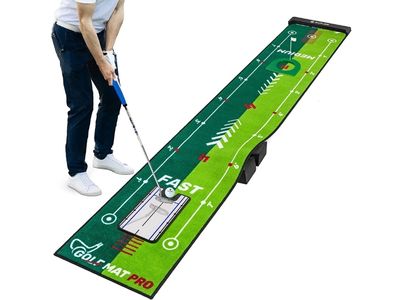 The Saplize Two-Speed Putting Mat is a good option for beginners and hobbyists looking to hone their skills on a quality mat without blowing the bank. This putting set is highly customizable and perfect for people looking for a variety of challenges.
One of the features that makes this mat stand out from others is the two-speed setup. Depending on which side you putt from, you can enjoy a medium (equivalent to a 9 stimp rating) or fast roll (11 stimp rating), essentially giving you two mats on one! The varying speeds let you explore different techniques for different green scenarios.
The mat also has a putting mirror that you can place by the tee to help with your shoulder and putter face alignment. Additionally, you can place the foam wedges anywhere underneath the mat to simulate terrain texture on the course and practice directional shots. There is also a ball bumper to prevent balls from rolling away and make collection easier after each round.
Rather than a permanent hole, the Saplize mat comes with a movable putting cup (large enough to hold several balls) that you can place anywhere on the mat, giving you flexibility for setting up your shots. At just 20 inches x 10 feet, the mat is on the smaller side, but still large enough to be useful in practice. It has various markings to help with measurement and alignment and to indicate the direction of speed.
One of the weak points of this mat is that it tends to wrinkle, and will definitely have creases when you first remove it from the packaging. This can be solved with ironing, and a roller brush is included to deal with smaller wrinkles and keep it clean. If you notice any significant defects, Saplize offers a one-year warranty on damaged parts.
Bottom Line: The Saplize Two-Speed Putting Mat features both fast and medium green speeds, a movable hole, and custom slopes. This putting set is easy to transport, though it tends to be wrinkled and creased after being unrolled.
For novice golfers who want to get more comfortable putting without investing in a high-end mat, the Kammity Putting Mat could be the ideal solution. The Kammity mat has a fairly simplistic design, though with several useful features. In addition to three holes (including a small hole for accuracy training), there is a tiny sand bunker and a water hazard, which makes for a more varied putting experience.
Like some of the others on this list, the holes are located up a short slope, allowing balls to slide down the automatic ball return for continuous putting practice. Unfortunately, this component doesn't always work, with balls sometimes only returning halfway. However, considering the fairly low price point, this probably won't be a dealbreaker for casual golfers.
The Kammity mat is available with either a green plastic or a wood base. The wood option is slightly more expensive but looks significantly more upscale. Overall, the turf surface has a pretty good roll, with a speed that's suitable for beginners and amateur golfers, making it a great choice for families with children who are just getting into the game
Even if this is your first putting mat purchase, you'll be able to assemble it in just a few minutes, probably without even using the instructions. It only has a few pieces and assembly is fairly intuitive. There may be wrinkles in the green surface after removing it from the box, though these should flatten out within a day or two. To avoid ending up with a wrinkled or creased surface, it's probably best to leave the mat out, rather than rolling it up after use, provided you have enough space.
Bottom Line: Although the automatic ball return isn't that reliable, the Kammity Putting Mat is an excellent choice for beginners and casual golfers, with a decent speed and true roll surface.
If you're looking for a mat with a flat putting surface and good visual aids, you might consider the CHAMPKEY 10 Ft Golf Putting Mat. With this mat, you have the flexibility to change the stimp speed, hole location, and slope by making a few simple adjustments. The variable green speed is probably the most unique feature of the CHAMPKEY, as you can choose between four different speeds, and there is a roller for adjusting the nap. This is a very cool idea, though determining precisely which speed you're hitting on is rather confusing, and the instruction manual doesn't make it much clearer. But it's fine if you're happy just knowing that one direction is "fast" and one is "slow."
The CHAMPKEY is likely to appeal to golfers who would rather putt on a flat surface, rather than up a slope at the end. Since this mat doesn't have an automatic ball return and the hole is simply a movable cup, there's no need for any extra gradient at the end of the mat. You can, however, add your own slope by placing the included wedge under the green at a position of your choice, though the mat is really too narrow to make this effective. It also creases fairly easily, as you'll notice after unboxing, but the surface should become smooth after laying flat for a while.
If you have enough free space at your office, the CHAMPKEY putting mat works well for social putting with colleagues, as you can place the hole anywhere on the mat and putt from multiple directions. It comes with two bumpers to prevent runaway putts and an instruction manual outlining games and putting practice drills.
Bottom Line: Designed to accommodate four different stimp speeds, the CHAMPKEY Putting Mat is a good option if you want a mat with visual training aids but doesn't require you to putt uphill.
The STORZON Putting Green is one of the more expensive putting mats on this list, but in most ways, it's worth the money. If you're looking for a realistic putting green that's suitable for both indoor and outdoor use, the STORZON mat is probably a good bet. It's a large mat, measuring 3 feet by 10 feet, so you may struggle to find an appropriate place to set it up, unless you have a lot of extra space. You could always place it outside on a deck or patio, though you wouldn't want to get the mat wet. It would be nice if this mat also came in other sizes, too.
The STORZON mat's nylon turf is excellent, with a very plush feel. You'll notice your putts rolling true and at a steady medium-fast stimp speed of about 10-11. In terms of design, it's incredibly basic, but in a good way. There are two holes on one end and one hole on the other, with one removable metal cup and three hole covers. The cup is a great feature, as it behaves a lot like a real golf hole and can easily hold three balls, so you won't have to keep walking across the mat to pick up your ball. There are three bumpers that can be placed around the green. If you're looking for distance markings or alignment lines, though, this isn't the product for you – it's a solid green that looks like a golf hole, not a practice mat.
Perhaps because of its heavy-duty construction, this mat does a pretty good job of laying flat after being unrolled. It arrives in a carrying bag, though you may struggle to fit it back in the bag again unless you roll it up exactly right. There's a good chance it will "shed" a lot the first time you open it, so may want to unroll it outside.
Bottom Line: Although it's a bit on the pricey side, the STORZON mat is a thick, durable putting green with a true roll that you can use indoors and outdoors.
If you want to practice putting indoors but have limited space, you might consider the Prowithlin Golf Putting Mat (Compact Edition). This mat is eight feet long and is one of the narrowest we encountered, with a width of less under eight inches. These dimensions certainly make it compact. It rolls up very tidily as well, making it a good choice for frequent travelers who want to golf on the go. Bumps and wrinkles tend to persist for a while after unrolling, though you can usually get rid of them by placing some heavy books on the mat.
Due to its small size, it's not surprising that this mat offers fewer features than many other indoor putting greens. The compact Prowithlin mat has just one hole, and you'll have to be pretty decent at putting to cope with the narrowness, though balls roll surprisingly well considering the thin surface.
The mat has distance markings every two feet and guide lines for helping to line up your putt. It features a small slope at the end, facilitating the automatic ball return (which works most of the time, especially if you have a decent amount of momentum). The compact edition is only available with a plastic base and backstop, which is not nearly as attractive as a putting green with wood accents.
Prowithlin offers a variety of other mats and golf accessories, so more serious golfers may prefer a larger and more realistic mat. However, for frequent travelers or amateur golfers with a limited budget and little floor space to spare, the Prowithlin Compact Edition offers a pleasantly consistent if somewhat repetitive way to practice your putting.
Bottom Line: This short, narrow mat is a good choice if you want to optimize your putting practice but don't have much space in your home or office.
Why You Need an Indoor Putting Mat - Top 4 Benefits
An indoor putting mat is essential for those looking to up their golf game, whether you're just starting out in the sport or getting serious about becoming a better player
Indoor putting green benefits include being able to practice year-round in any weather and customizing the green to your own skill level and preferences.
1. Practice Putting Wherever You Are
Giving yourself easy access to a place to practice putting will make everything easier. You can't head to the green every time you want to practice, so having an indoor substitute is essential. It's also great when you have limited time and want to snatch a few minutes of putting practice here and there. And while practice is undoubtedly necessary for improvement, doing the same thing over and over can be tedious. Many indoor putting mats offer practice drills and multiplayer games to make your putting practice more fun and interesting.
2. Hone Your Putting Skill
Aside from making practice easier, having a putting mat lets you hone your skills to perfection in a controlled environment. From bad weather to annoying opponents, anything can happen on the course, so it's essential to get as good as possible indoors before heading out to any big games. Putting mats usually come with practice aids to help you get the most out of your sessions, and some even offer detailed stats and feedback.
3. Carpet Isn't a Substitute for a Putting Mat
If you're keen on the idea of practicing at home, you may have wondered whether you can just putt on carpet. Although it might be preferable to hardwood or linoleum, your living room carpet is nothing like the green at your local golf course. The ball speed and roll will be drastically different, so your practice putts won't travel the same distance or direction as they would on a purpose-built putting set. The best indoor putting mats are specifically designed to replicate the feel of a real putting green and thus improve your putts during a match.
4. A Fun and Motivational Hobby
While many people purchase putting mats simply to improve their golf game, they often discover that putting can be a fun activity to enjoy with family and friends. Many putting mats are specifically designed for multiplayer use and are suitable for players of all ages and skill levels. They are an excellent way to introduce golf to kids. By practicing from the comfort of your home, you'll improve not only your skills but also your overall confidence in the sport. Putting can also serve as excellent stress relief and gentle exercise, and you'll keep your brain active by analyzing your putts and considering the complex factors needed for improvement.
7 Key Considerations for Putting Mats
Before buying any mat, it's vital to consider the following factors. Take some time to deliberate, as you may find your priorities changing as you conduct more research and discover new products.
1. Size
The size of your mat is dictated by how much room you have available in your home or office for it. A longer, wider mat will give you more flexibility and variety when practicing, and they tend to come with two or three holes, rather than one. Consider where you want to place your putting mat and think about the type of flooring before making a purchase.
2. Roll
Roll refers to how your ball moves on the putting surface. You'll want to choose an indoor putting mat with a roll that's as similar to your favorite golf course as possible. Each mat will have a unique speed (often referred to as a "stimp rating"). Lower numbers are better for beginners and higher numbers are better for experienced players.
3. Quality
Quality isn't just about how long the mat will last, but also the feel of each putt. Is it satisfying to use? Are there any issues? A good mat is well-designed, visually appealing, made with high-quality materials, and offers a smooth putt each time.
4. Portability
Most indoor putting mats roll or fold up quite neatly, but some are very large and bulky and don't make for easy transportation.
If you want a mat you can take on vacation or bring to the office, you should consider a smaller, lighter mat or an office putting set that will be easier to carry. Make sure it comes with a carrying case, too.
5. Durability
The durability of a mat comes down to two factors: the material and how you use it. If you use the putting mat as directed, you're unlikely to damage it and it should last for many years. The material quality, however, varies from product to product, and some wear down more quickly than others.
6. Features
If you're new to the world of indoor putting mats, you may be surprised to discover how much variation exists among different products. There is a wide range of possible features, including visual aids, additional holes, slope attachments, backstops, ball return chutes, alignment tools, and much more. One mat might have plastic or stainless steel cups, while another could simply have printed targets. Some are raised at the end while others are flat. Some feature a solid green surface, while others have colorful, printed surfaces with measurements, guidelines, and text.
7. Price
When shopping for an indoor putting mat, one of the first things you'll notice is how significantly these products vary in price. If you're simply looking for a party game or a children's play item, a cheap set is fine. On the other hand, if you want a tool for improving your putting, you'll probably need to spend significantly more. However, the most expensive mat isn't always the best. In addition to thinking about what suits your budget and your skill level, look for a mat that boasts excellent customer reviews, high-quality materials, and pro golfer endorsements.
Final Thoughts
So, do you need a putting mat? Even in the unlikely event that you have unlimited time to get out on the course, there are so many benefits to having an indoor putting mat in your home or office. A putting mat gives you the consistency and repetition you need to improve your strokes, all from the comfort of your home or office. Putting mats are especially useful in the off-season, during travel, when the weather isn't cooperating, or at any other time when you can't get onto the green, such as when you're at work! They can also be a lot of fun to use, especially if you get your friends, family, or coworkers involved.
While you can find a flimsy, inexpensive putting mat anywhere, these can be detrimental to your technique and form over time. You're also likely to get frustrated with the uneven surface and how little it resembles a real course.
On the other hand, investing in a superb product like the PrimePutt mat is sure to up your game and get you course-ready in no time, while also providing a sleek and attractive focal point for your home or office.
Now that you know what to look for in a putting mat, this might be a good opportunity to brush up on some common golf terms before your next tee time on the course.
Frequently Asked Questions
If you still have questions about choosing an indoor putting set, take a look at the answers to the most frequently asked questions.
Are putting mats worth it?
For those looking to improve their putt without having to spend hours on the course, a putting mat is a perfect solution. Putting mats are generally affordable and don't take up too much space, so they're ideal for golfers looking to practice indoors whenever they have a few spare minutes.
Can you put a putting mat on the carpet?
Most putting mats work on all surfaces, but some are designed for a smooth surface, like hardwood or linoleum. Usually, as long as the floor is even, the flooring material shouldn't matter too much – though you may notice a marginally slower roll on carpet.
How often should you practice putting?
If you are serious about improving your technique and shaving strokes off your score, many golf experts recommend practicing every other day (around four times a week). With putting, as with any skill, consistency is key.
Why are putting mats uphill?
Some mats feature an uphill slope to make up for the shorter range and help you build a solid follow-through on each stroke. Uphill mats may also feature a ball return chute that uses gravity to return your balls.
Can you practice golf too much?
No matter how passionate you are about golf, it's possible to overdo it. Practicing too much can lead to injury, burnout, and loss of enjoyment. Give yourself a break every so often to stay healthy and avoid getting stuck in rut. Adding variety to your practice routine can also help keep things interesting.