3 Best Indoor Putting Mats to Improve Your Golf Game
Are you looking for the best putting mat? You might be looking to improve your golf game but don't have access to a course year-round. Do you need to hone your putting skills before taking to the green? Or, maybe, you just can't get enough and want to be able to golf anywhere.
Whatever your reasons, investing in an indoor putting mat can vastly improve your golf skills. Using the best putting mat can take you from amateur to near-pro without even leaving your house. It's also a fun way to get your friends and family involved without having to coordinate travel and memberships.
There's a reason pros use indoor putting mats. For fine-tuning motor skills and perfecting putting, they're a must. You can learn so much about yourself and your golfing style from playing on a smaller scale in a controlled environment.
Here you will learn all about the benefits of using an indoor putting mat, the three best putting mats, things to consider before buying, and answer some common questions you may have.
While buying a putting mat may seem like a simple task, there are a lot of factors to consider. Purchasing a cheap mat can lower your game performance by forcing you to rely on bad techniques. To get the most out of your indoor putting mat, you need to get the best.
Let's get putting!
Top 3 Indoor putting Mats
While there is no end to putting mats to choose from, most of them are either cheap or worthless. You need a mat that offers a smooth, hassle-free experience so that you can focus on your game instead of constantly fixing a wrinkled mat or retrieving balls that fly away.

For the best of the best, you need one of these three putting mats: PrimePut, Perfect Practice, or Saplize. These mats will deliver and keep on delivering until you can punt the perfect putt.
The PrimePutt Premier Putting Mat is the gold standard of all indoor putting mats and boasts all the essentials with no superfluous fluff.
Utilizing top-grade PGA turf, this mat is as close to the genuine experience as you'll ever be able to get inside. The premium turf offers the same haptic feedback as real grass and will help improve your swing even when you can't get to the course. The lack of markings is to make the experience as close to real as possible. After all, you won't have alignment tools and measuring guides on the green.
The cups can hold up to four balls at once, and the set includes three cups. That means you can make twelve uninterrupted shots before you have to retrieve your balls. The custom-engineered design is perfect for simulating genuine holes without sacrificing the sleek indoor design. Each cup also has an optional marker to imitate the flag.
Finally, the PrimePutt mat also features a no-block backstop that prevents rollback. The specially angled wooden block at the end of the course will stop the balls from rolling away and stops the momentum in such a way that they won't roll back onto the putting range. This means you don't have to worry about previous shots getting in the way of new ones, and you won't have to stop to move them.
While this putting mat is on the higher end as far as price is concerned, it also features only premium materials that will improve your game. Thanks to the lifelike materials and setup, the skills you build on the mat will transfer flawlessly to the green. PrimePutt also offers a 100% money-back guarantee if you're not satisfied, so there's no risk.
The quality, realism, and confidence PrimePutt has in this mat are just some of the reasons it's the best indoor putting mat. If you're looking to improve your game using the best of the best, then look no further.
Bottom Line:
The PrimePutt Putting Mat is the best putting mat. It's high-quality, feels realistic, and uses advanced designs to make each shot smooth and precise.
The Perfect Practice Indoor Golf Putting Mat is a must for anyone looking for a high-end, yet affordable putting range. Coming in three lengths, this putting mat is all about comfort and utility. The standard size features two holes; one regulation size and one reduced size.
The smaller hole helps you hone your aiming accuracy and fine-tune your control, while the larger one offers the standard experience of a regular course.
The course slopes up, putting the holes at the top of the small hill. This makes you have to hit the ball harder to get it in and helps to simulate the effort you would need to put in on a real course. The balls travel down the return shoot and are deposited back at your feet for the next round. This gravitational design is ideal for easy ball retrieval and continuous putting. The base of this course is solid wood, and the mat is crystal velvet, giving you a sturdy and smooth shot every time.
The standard mat measures nine and a half feet and is entirely portable and easy to travel with. The mat also features guide markings for ball alignment, distance, and tracks. The back of the mat has a non-slip coating to keep it in place while you play.
While this putting mat costs less than the PrimePutt, it's still pricey. Generally speaking, it's the average price you should expect for a quality putting mat that is close to the best.
If you feel you need more or have the space, why not try the fifteen-and-a-half-foot course? The extra range gives you room to practice farther shots, work on overall accuracy, and shoot from even more challenging positions.
If you need something smaller and better for travel, there is also a compact version that measures only eight feet and has just one hole. There are also limited edition acrylic and barstool versions.
Bottom Line: The Perfect Practice Putting Mat is ideal for uphill shots and portable play. It has a ball return, semi-turf surface, and solid wood construction.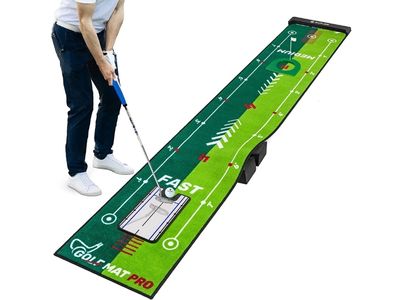 For those looking for the most affordable putting mat, it's hard to go wrong with the Saplize Two-Speed Putting Mat.
This mat is fantastic for beginners and hobbyists looking to hone their skills on a quality mat without blowing the bank. The putting set is super customizable and perfect for people looking for a variety of challenges.
One of the things that make this mat stand out from others is the two-speed setup. By aligning the nap of the material precisely, Saplize can offer more or less ball resistance on their mat depending on the side you shoot from. The varying speeds let you explore different techniques for different scenarios.
The mat also comes with a putting mirror that you can place by the tee to help with body and club alignment. This mirror is just as high quality as much more expensive sets and offers a view of your form you can't usually see.
Additionally, you can as the foam wedges wherever you please along the mat to simulate terrain texture on the course and practice directional shots. There is also a ball bumper for preventing balls from rolling away after each swing and making collection easier after each round.
The hole isn't stationary, so you can customize practice as much as you need to. The ten-foot mat has various markings to help with measurement, alignment and to indicate the direction speed.
The mat lies flat well after it's allowed to relax and offers a lot of customization options for a good price. It also comes with a roller brush to help smooth it out and keep it clean, as well as a one-year warranty on parts and damages.
Bottom Line: The Saplize Two-Speed Putting Mat features fast and medium directions, a movable hole, and custom slopes. The set roles up very compactly and is easy to transport.
Why You Need an Indoor Putting Mat - 4 Top Benefits
While it may seem a frivolous item to some, an indoor putting mat is essential for those looking to up their golf game like the pros.
There are several benefits to using putting mats. Here are just a few:
1. Necessary Practice
Perhaps the most tedious part of practicing anything is having to do the same thing over and over again for what feels like endless hours. Giving yourself easy access to a place to practice the repetition of putting will make the tasks far smoother. You can't head to the green every time you want to practice, so having a substitute indoors may be vital.
2. Hone Your Putting Skill
Aside from making frequent practice easier, having a putting mat lets you hone your putting skill to perfection in a controlled environment. Anything can happen on the course, so it is essential to get as good as possible indoors before heading out to any big games.
3. Carpet Isn't Your Friend
While you may jive with the idea of practicing at home, chances are you are wondering if you can use the hardwood, tile, or carpet to putt on. However, this may not be the best idea. Carpet does not replicate the feel of grass, and because of this, you won't have the best training environment to improve your skills.
4. A Fun and Motivational Hobby
Using a putting mat improves your overall golf skill, but it is also just a fun at-home activity. It will give you an opportunity to enjoy your hobby in the comfort of your own home and improve your overall confidence in the sport. Putting at home can also be a fun way to introduce golf to family, friends, and kids.
For these reasons and more, it's a good idea to get the best putting mat you can find.
7 Key Considerations for Putting Mats
Before buying any mat, it's vital to consider the following factors. Take some time to deliberate, as you may find your priorities align differently than you thought.
1. Size
Size is a key consideration as the size of your mat is dictated by how much room you have in your home for it. While you may want a long mat to improve your ranged swings, you might only be able to fit a medium mat. Consider where in your house you want your putting mat to go, the type of flooring, and how much space there is before you buy.
2. Roll
Roll is all about how easy it is to store. If you need to put your mat away at the end of each session, you want a roll-up one. If you can leave it out for lengthier periods, consider one with a hole attachment.
3. Quality
Quality isn't just about how long the mat will last, but rather the feel of each putt. Is it satisfying to use? Are there any issues? A good mat is well-designed, visually appealing, uses high-quality materials, will last, and offers a smooth putt each time.
4. Portability
Most indoor putting mats roll or fold up quite neatly, but some are very large and bulky and don't make for easy transportation. If you want a mat you can take from home to the cottage or even the office, you should consider a smaller, lighter mat that will be easier to carry around. Make sure it comes with a carrying case, too.
5. Durability
The durability of a mat comes down to two factors: the material and how you use it. If you use the putting mat as directed, there's practically no way you could ever damage it. The material quality, however, varies from product to product, and some wear down more quickly than others.
6. Features
While you may think that putting mats all have the same features, that's not true. One mat might have a hole attachment, while another could have printed targets. Some are raised at the end while others are flat. Others still are made from plain green turf, while others have colorful, printed surfaces with measurements, guidelines, and text.
7. Price
While you might shy away from the pricier mats at first, remember that those are the ones that use the highest quality materials, have the best reviews, and make for the smoothest put. It's up to you what you spend, but don't sacrifice quality for the price.
Final Thoughts
So, do you need a putting mat? Technically you could get by without one, but there are so many benefits to having one. You can train like a pro with your own indoor putting mat and work on many different skills from the comfort of your home. Putting mats are great to have for the off-season, during travel, or just for times when you can't get to the green as often as you'd like.
While you can find a flimsy, cheap putting mat anywhere, these can be harmful to your technique and form over time. Investing in a superb mat like the PrimePutt or Perfect Practice mats is sure to up your game and make you course-ready in no time.
Now that you've found the best putting mat for your needs, it's time to brush up on some Common Golf Terms.
Frequently Asked Questions
If you still have questions regarding putting mats, take a gander at these frequently asked questions.
Are putting mats worth it?
For those looking to improve their putt that don't readily have access to putting greens, a putting mat is a perfect solution. Putting mats are generally affordable and don't take up too much space, so they work well for those looking to get in some at-home practice.
Can you put a putting mat on carpet?
Most putting mats work on all surfaces like the Perfect Practice Putting Mat, but some are more tailored to flat hardwood or linoleum. So long as the floor is even, the flooring material shouldn't matter too much.
How often should you practice putting?
The generally agreed upon amount of practice for those looking to improve their putting is four times a week or every other day. As with anything you hope to be better at, consistency is more helpful than binge-practicing.
Why are putting mats uphill?
Some mats have an uphill slope as it helps to account for the shorter range and build a solid follow-through for the golfer on each stroke. Uphill mats can also feature a ball return shoot that uses gravity to return your balls.
Can you practice golf too much?
No matter how passionate you are, it's possible to overdo it with anything. Practicing golf too much can lead to injury, burnout, and loss of passion. It can also lead you down the path of repetition and prevent you from exploring new forms, situations, and mindsets.