Broomball is a sport traditionally played in an indoor or outdoor ice rink, similar to hockey. The objective of the game is to score more points than the opposite team. Goals are made by using a special stick to hit a small ball into the opposing team's net.
Each team consists of six players: the goalie, two defenseman, and three forwards. In order to swiftly move across the ice, the players wear special shoes with a spongy sole. Two referees are used to control the action on the ice.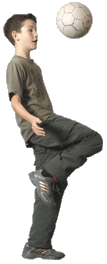 The game of broomball requires several pieces of equipment in order to properly play the game. A broomball stick is one of the most important pieces of equipment. It commonly is manufactured with an aluminum or wooden shaft. At the end of the shaft is a molded section shaped like the head of a broom.
Indoor or outdoor balls are used in this particular sport. The outdoor ball is similar in appearance to a soccer ball, while the indoor ball is made from orange rubber. Players wear spongy-soled shoes to provide more traction as they move across the ice.
Depending on where the game is played, players wear indoor or outdoor shoes. The outdoor shoes have holes in the soles in order to help players move more easily through the snow and ice. Indoor shoes merely have a pattern in the sole.
Gloves, kneepads, and helmets are other required gear, as they protect the player from injury. The goalie of broomball wears a helmet and hockey goalie mask. He or she will also wear pads for the chest, shoulders, and shins. The final pieces of equipment are the two goals which exist so that players can maneuver the ball into the nets, thereby scoring points for their team.
The game of broomball originated in Canada in the early 20th century and gradually made its way to the United States. In the game's infancy, it was played with actual brooms and a soccer ball. Eventually, specialized equipment was designed for the sport of broomball. Official leagues did not develop in the U.S. until the 1960s. The first league in the U.S. was formed in Minnesota.
As the years passed, the sport trickled down to other states like New York and Ohio. The governing body of broomball is the International Federation of Broomball Associations. It is the Federation's responsibility to ensure that the rules of the sport are followed by any official leagues.
AS FEATURED ON:
AS FEATURED ON:

Boy playing with a ball